Our Online Store carries an extensive selected of natural wellness and nutrition products. We also have the following available at our office located at 1327 Superior St. Suite 103, Sandpoint, ID:
Natural Wellness and Nutrition Products - On-Site Nutrition Store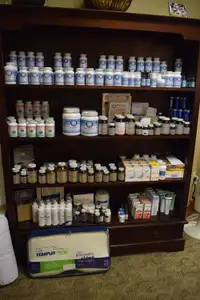 Our Nutrition Store contains the supplements and vitamins you need to feel better on the inside, at a cellular level. Our team will help you choose the most appropriate combination of supplements and vitamins based on your particular weight and health goals.
We also have a complete line of homeopathic remedies to help your body heal itself. Our doctors are trained in nutrition and functional endocrinology and have an in-depth knowledge of how the body works and the building blocks necessary for true wellness. Appointments are available with an on-site functional endocrinologist to discuss your specific needs and to design a nutrition protocol that is right for you.
Benefits: Greater energy and stamina; better digestion; better sleep; lower blood pressure, weight management (lose or gain as wanted)
Here is a link to the products we provide in our office:
Important Testing Information

These are the Labs we use to better enhance your health:
Array 2 Information Guide- "Leaky Gut Test"
Array 3 Information Guide- Celiac Test
Array 4 Information Guide- Cross Reactive Foods
Array 5 Information Guide- Multiple Autoimmune Reactivity Screen
Array 10 Information Guide- Multiple Food Immune Reactivity Screen
Aqua Chi
The Aqua Chi system, part of our detoxification program which recharges body cells and helps you build increased energy and healing, can be purchased for home or office use.
Benefits: Greater energy, stamina; elimination of cell toxins; sleep better at night; clearer, more vibrant skin.
Beds/Mattresses from Tempur-Pedic TM
A great bed/mattress will help your back and help you sleep better at night. Come in to see our selection of Tempur-Pedic beds and mattresses.
Benefits: Elimination of pain, discomfort; increased energy and stamina; restful and rejuvenating sleep.
Massage Chairs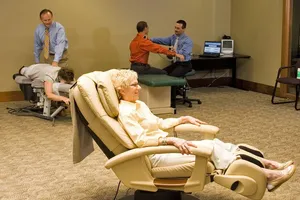 We carry the HumanTouch line of massage chairs. HumanTouch is the most advanced and medically sound line of massage chairs. Massage helps stretch tired, tight muscles, allowing the muscles to receive the needed oxygen and nutrients to perform effectively. Massage both supports and enhances a chiropractic adjustment, making the adjustment "last" longer and giving greater mobility and range of movement.
Benefits: Relaxes muscles; relieves tension and chronic pain; improves tissue circulation and removal of body toxins.
Orthotics
Orthotics-molded shoes inserts-often plays a key role in eliminating back and neck pain. Our staff can successfully fit you with the necessary insole, heel cushion, and/or arch cushion to help you stand straighter, walk balanced, and eliminate pain.
Benefits: Elimination of pain, discomfort; stand straighter, walk balanced; increased energy and stamina.
Here is a link to the Orthotics we use in our office:
Visit our online store featuring a wide selection of nutritional and wellness products.